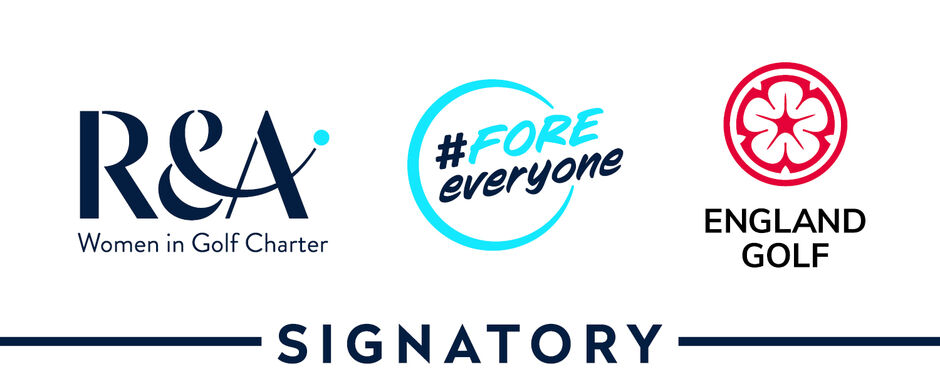 WE ARE PROUD SIGNATORIES TO THE WOMEN IN GOLF CHARTER
The Women in Golf Charter is an R&A initiative supported by England Golf to encourage more women and girls into the sport. The Charter aims to challenge some of the negative stereotypes attached to golf, create inclusive golf club cultures and open the game up to women and girls of all ages.The appeal of the Women in Golf Charter to Clitheroe GC is based around the family-centred approach of the initiative, making golf accessible to all women, including those who work full-time, and encouraging more girls to get into the sport, which can foster life long friendships and prove a really fun game to play.
''In 2021 our commitments and plans around the Women in Golf Charter have been successful in attracting more women and girls to Clitheroe Golf Club. We would strongly encourage anyone interested to sign up for our future taster sessions so they can see for themselves how great the game of golf truly is". KIRSTY FIELD, Clitheroe's Women In Golf Charter "Champion."
KIRSTY FIELD, our Women in Golf Charter Champion.

Kirsty has played golf for over 20 years. She is passionate about the game and thankful for the many great experiences, adventures and friendships it has afforded her. Having been involved in the game from all aspects, as a Welsh International to a Girls High School Coach, she has seen first-hand the joy golf can bring to people's lives. Alongside Kirsty is an enthusiastic Working Group, all committed to creating an inclusive and welcoming culture at Clitheroe, making golf accessible to all women and girls, whether they want to play competitively, socially, or are just in pursuit of a new hobby!
CLICK HERE to watch the video about the Women in Golf Charter on England Golf's website
Our Commitments for 2021 - ALL ACHIEVED!
Waiver of joining fee for new lady members until the end of September 2021
2 Taster Sessions for ladies new to golf and the Girls Golf Rocks programme for girls - first programme completed in June 2021
2 social events following the taster sessions to welcome new golfers
2 "course ready" workshops to help new golfers learn the rules and etiquette of golf
A New "Lady/Girl Member Coordinator" and buddy system to help new golfers settle in
2 family "9 and Dine" events to hone in on the family nature of Clitheroe Golf Club
Inclusive "Stableford Sunday" competitions open to all elligible male, female and junior members, again with the emphasis on family golf
Maintain Safe Golf accreditation and Play Safe, Stay Safe protocols
Create evening tee times to cater for working ladies
Create an inclusive, welcoming environment at CGC, which champions women and girls in golf
Following the huge success of our Women in Golf coaching programme in Summer 2021, we'll be announcing dates in 2022 for another 6-week programme designed to appeal to novice players. The sessions will cover all aspects of the game and each week will focus on a different topic; short game technique (chipping & pitching), bunker play, putting, full swing and "taking it to the course".
WATCH THIS SPACE FOR TASTER SESSIONS IN 2022!
Individual lessons for beginners and improvers are also available throughout the Autumn and Winter months - phone Sam Punchard on 01200 422292 or visit our ACADEMY website.