CGC Ecology and Wildlife Diaries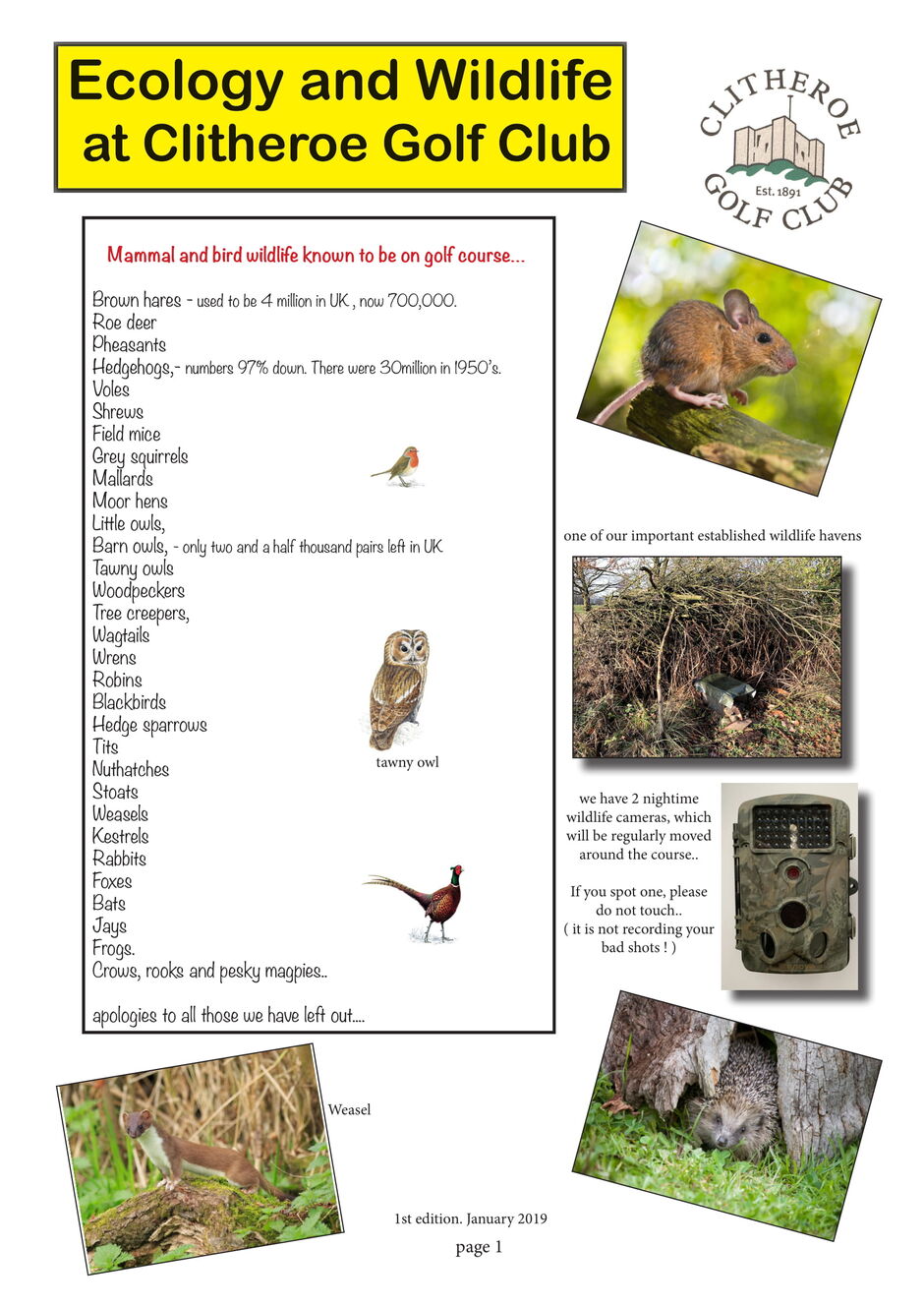 February / March 2019
James Hutchinson spent two days on the course, compiling an extensive, hole by hole ecological report.

The report is available in the Wildlife Folder on the table in the lounge.
Nocturnal Wildlife Cameras

These were moved around the course - but always sited on the paths… as, for reasons not understood, all animals seem to use paths to move around the course.
We captured on video foxes, rabbits, deer, LOTS of hares, hedgehogs, voles, pheasants, and on one night, one solitary badger which we think died in the wood.
Badgers are not good news on the golf course. They cause significant damage and are hedgehogs main predator.
Nest boxes
A huge thank you to all the members who made boxes of all kinds for the course.
Chris Gotts gave up his own time to put them all up. Thanks Chris.
At the end of Feb, I went out with Chris to map and number all the nest boxes.
Most now have a number written on the box… the remainder will soon have a wooden plaque fastened to the tree.
There is a list and map in the folder.
A number of nest boxes are confirmed to be already occupied.
21st March - the first woodpecker was heard at the back of the 16th green.
April / May
2nd April - Steve Whalley from Preston Hedgehog Rescue Centre came to the club and brought three hogs in for members to hold and learn about.
One had been found wandering around Preston Bus Station and rescued.
The three were then adopted and successfully rehoused out on the course…. two near the 9th tee and one in the wood at the back of the 6th green.
We now have 7 rescued happy hogs out on the course.

The cameras were re-sited several times during April… to try to find the best location for them.

We recorded a few "Spring is in the Air" displays. Recordings will be uploaded online when we get enough to be interesting. (still learning!)
May 3rd - 20 intrepid people braved the cold and rain to turn up at 6am to join in the Early Morning Birdsong walk, led by Philip Dykes from the Wildlife Trust.
Despite the weather, the walk was very successful …. we'll try again in 2020.
May 6th The first Spring deer was a fabulous sight as it danced its way along the 6th fairway during the social mixed competition.

Hares are now being spotted regularly. If you love to see them, you need to get up early!

The mallards have ducklings
Rest of May
4 - 10 more rescued hedgehogs will be released
The planned bat walk will be investigated for feasibility.

If you spot anything interesting, please let us know!

jeaninwhalley@gmail.com.

07709 259237